ALIEN CREATURES UPDATE FILE
(Bend staples out and remove the 12 center pages, then bend staples back down.)
The Alien Creatures Update File lists and describes the new creatures encountered in this module. Most plants are not listed because they usually play a minor role in the encounters.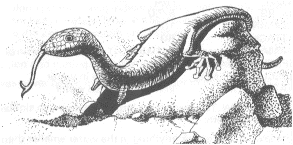 Burrower Snake
TYPE:
NUMBER:
MOVE:
IM/RS:
STAMINA:
ATTACK:
DAMAGE:
SPECIAL ATTACK:
SPECIAL DEFENSE:
NATIVE WORLD:
Medium Carnivore
1
Slow
8/80
15
75
1d5 bite
Poison S5/T10
None
Volturnus - desert
DESCRIPTION: The burrower snake resembles a 1.5 meter long cross between a snake and a salamander. It has powerful rear legs suited for burrowing into loose sand and rock, but its forelimbs have long since atrophied because of disuse. The burrower snake uses its rear legs to push itself along as it slithers across the desert sands.
After digging a lair in the loose desert sand, the burrower snake waits patiently until an unsuspecting creature wanders within striking range (5 meters). As soon as it senses the presence of its prey, the burrower snake springs forth, hoping to kill any creature it hits with its venomous bite (a shot of antitox will counteract the venom).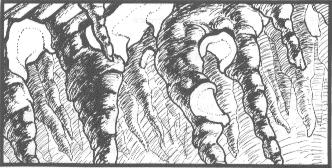 Dropper
TYPE:
NUMBER:
MOVE:
IM/RS:
STAMINA:
ATTACK:
DAMAGE:
SPECIAL ATTACK:
SPECIAL DEFENSE:


NATIVE WORLD:
Small Carnivore
1
Very Slow
2/18
20
80
2d10 digestion
Attract 2d10 droppers in 1d10 turns
Immune to projectile weapons, and
doze grenades; ranged weapons
attack at -10
Volturnus - caverns
DESCRIPTION: The dropper resembles a giant amoeba. It is a flat, irregular blob up to 1 meter in diameter. The dropper inhabits cavern ceilings all over Volturnus, always ready to drop on any unsuspecting prey walking beneath it. When the dropper senses another creature approaching, it crops a tentacle-like pseudo-pod covered with a sticky digestive acid. If this pseudo-pod strikes the prey, the dropper falls onto the creature in the same turn and attempts to envelop it (treat as a grapple). The dropper then begins to digest the creature, releasing digestive acids that cause 2d10 damage every turn the victim fails to break the dropper's hold. The smell of this digestive acid will attract 2d10 more droppers to the area in 1d10 turns.
Because of its amoeba-like body, projectile weapons will not affect the dropper. It is also immune to the effects of tangier grenades,. for it simply oozes out of the tangier strings. Since the dropper never sleeps (even if artifically stimulated), doze grenades will not' affect it, either. In addition, any person using a ranged weapon attacks at -10 due to the dropper's ability to blend with its natural) rock surroundings (droppers cannot even be seen from distances greater than 5 meters). Very bright light will cancel the effects oft the dropper's camouflage.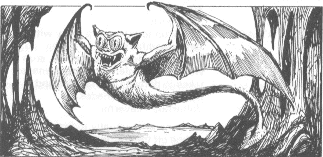 Flitter
TYPE:
NUMBER:
MOVE:
IM/RS:
STAMINA:
ATTACK:
DAMAGE:
SPECIAL ATTACK:
SPECIAL DEFENSE:
NATIVE WORLD:
Small Carnivore
10-100
Medium
7/70
10
40
2 bite
Disease
None
Volturnus - caverns
DESCRIPTION: Flitters are small winged mammals that enjoy dark places. They live in the caverns below the Burning Lands, eating insects, small mammals, and carrion. Flitters are generally passive, but loud noises, light, and smoke will cause them to attack.
Each flitter has a 50% chance of carrying a disease that will be transmitted to a bite victim. Eight hours after being bitten, the infected player will begin to suffer from a fever. This will soon be followed by the chills. The fever will continue for three days, during which time the player will be incapable of any action. If the victim is not treated with antibody plus during this time, he will die on the beginning of the fourth day. Even if the victim receives a dose of antibody plus, he must wait 24 hours before he feels healthy enough to do anything but rest.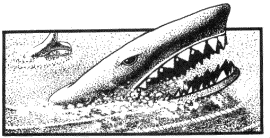 Jawfish
TYPE:
NUMBER:
MOVE:
IM/RS:
STAMINA:
ATTACK:
DAMAGE:
SPECIAL ATTACK:
SPECIAL DEFENSE:
NATIVE WORLD:
Large Carnivore
1 -2
Fast
5/50
100
80
3d10 bite
None
Soft cover while in water
Volturnus - fresh water
DESCRIPTION: The jawfish is a large predatory fish similar to a shark. Its jaws, more than a meter wide, are filled with thousands of razor-sharp teeth.
The jawfish will attack anything in the water smaller than 10 meters long. If the players are aboard any type of craft, the jawfish is 70% likely to attack it rather than the players. Anytime the jawfish attacks a craft, it will overturn the craft, tossing the players into the water. Note, however, the jawfish will still attack the craft 70% of the time as long as the craft remains afloat. If the jawfish attacks a player, it will attack one of them at random.
The jawfish will attack only once every three turns, circling its intended victim for two turns between attacks. After making five attacks, the jawfish will loose interest and swim away.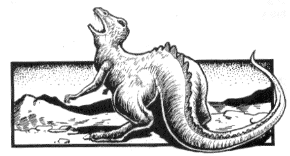 Loper
TYPE:
NUMBER:
MOVE:
IM/RS:
STAMINA:
ATTACK:
DAMAGE:
SPECIAL ATTACK:
SPECIAL DEFENSE:
NATIVE WORLD:
Large Herbivore
2-20
Fast
5/41
300
40
2d10 bite and claw
None
Needler weapons do not penetrate hide
Volturnus - desert
DESCRIPTION: Lopers are two-legged reptiles the size of horses, inhabiting the deserts of Volturnus. They are usually found in the presence of the Ul-Mor, who use them as cavalry mounts, though it is not uncommon to find them in the wild. They are named for the rapid gait they use to cross the desert sands.
Though normally timid and shy, lopers will attack with their small fore claws and powerful jaws if provoked. Normally, mounted beasts may not attack in melee, but when mounted by Ul-Mor, lopers are capable of attacking at the rider's direction.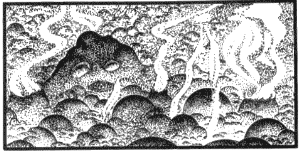 Magma Monster
TYPE:
NUMBER:
MOVE:
IM/RS:
STAMINA:
ATTACK:
DAMAGE:
SPECIAL ATTACK:

SPECIAL DEFENSE:



NATIVE WORLD:
Special
1 Adult, 100+ young
Very Slow
3/30
150
30
3d10 burn
Attack up to 50 meters away with no
range modifiers
Immune to needler, projectile, stun
weapons, tangler and doze grenades;
takes no damage from lasers and
fragmentation grenades
Volturnus - caverns
DESCRIPTION: A magma monster is usually indistinguishable from the pools of lava it inhabits. For most of its life, it remains immersed in the lava, feeding off the tremendous heat. When it has stored enough energy to stimulate reproduction, the magma monster enters its ''female" cycle. During this cycle, it assumes a semi-solid shape and allows itself to be shot from the pool of boiling lava onto a shelf or shore of solid rock, where it cools over several decades and forms a hard crust.
When this happens, the magma monster is finally ready to reproduce. It opens a small hole in its outer crust and lays nearly 100 little round blobs of magma. Within 10 days of being laid, these blobs of magma form a hard outer crust, taking on the shape and size of billiard balls. After a century of further cooling (sometimes Iying dormant, sometimes rolling around the cavern and hitting their siblings), the adult and the young return to the lava pool and begin this 1,000 year cycle again.
If a stranger is fortunate enough to wander into a cavern filled with magma monsters, the adult magma monster will take no action unless the stranger approaches the young. The magma monster will attack if any stranger touches its young (not if the young touch a stranger). It will open a small aperture and spew a stream of lava at its victim. This spurt may travel as far as 50 meters, and is shot with such force no modifiers for range are necessary.
Due to the magma monster's hard outer shell, it is not affected by tangier grenades, needler, or projectile weapons. Doze grenades and stun weapons of any sort will not affect it either, since the magma monster's life force is based on thermal energy and these weapons are designed to achieve their effects through big-chemical manipulation. Magma monsters take only ,/2 damage from lasers and fragmentation grenades.

Mutating Fungus
TYPE:
NUMBER:
MOVE:
IM/RS:
STAMINA:
ATTACK:
DAMAGE:
SPECIAL ATTACK:
SPECIAL DEFENSE:
NATIVE WORLD:
Special
1
Slow
Special
Special
Special
Special
Replaces body cells
None
Volturnus - caverns
DESCRIPTION: It is uncertain whether the mutating fungus is an animal, a plant, or a cancer, for it has aspects of all three. In outward appearance, it resembles a white, pasty fungus, yet it is capable of self-locomotion, creeping across small areas of land to attack its prey. Its attack form, however, resembles that of a cancer; replacing the normal, healthy cells of any creature with its own mushy cells.
Any character who is exposed to the mutating fungus for eight hours or more, or who sleeps near it for any amount of time, will find a while, pasty growth covering parts of his body. If the character notices the presence of the fungus within three hours of its attack, he may treat the infected part of his body with antibody plus and counteract the effects of the fungus (though he will not tee protected from further attacks!. If the character is not treated within three hours, the infected body part must be amputated, or the character will be completely consumed by the fungus within three days. Any character exposed to a mutating fungus for three days without treatment will be transformed into a mutating fungus permanently.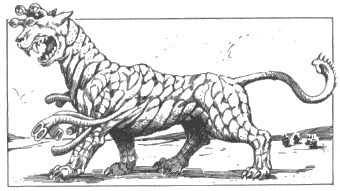 Quickdeath
TYPE:
NUMBER:
MOVE:
IM/RS:
STAMINA:
ATTACK:
DAMAGE:
SPECIAL ATTACK:



SPECIAL DEFENSE:



NATIVE WORLD:


Large Carnivore
1-2
Very Fast
8/75
180
70
6d10 bite, claws
Poison dart S10/T3, (RW 60,
10/20/30/40/50) attacks extra
creature with maw (10 points
damage)
Immune to needler weapons; ½
damage from laser or projectile
weapons. 70% chance will remain
unseen until within 120 meters
Sathar Attack Monster - all terrains
except mountains
DESCRIPTION: The quickdeath is the ultimate land carnivore. This creature can propel itself at 100 kilometers per hour with its great legs, which resemble those of a jaguar. Quickdeaths keep the claws on these legs razor sharp, using them to attack prey as well as for climbing. Three sets of smaller, tentacle-like limbs ending in suction cups are attached to the quickdeath's sides. It uses these limbs to catch unwary prey and stuff the unfortunate creatures into its digestive maw. Any creature in the maw takes 10 points of damage until it frees itself (as if breaking free from a hold).
The quickdeath has a long, flexible neck that ends in a snout and large mouth. Its four eyes are mounted on retractable stalks atop the head, while its brain is located at the base of its neck. (The quickdeath is nearly blind when it strikes it prey because it retracts these eyes.) The creature has a long, whip-like tail that can fling a poisonous dart once every four hours. The outer hide of the creature is covered by a moist, reflective armor which provides such good camouflage that the creature is nearly invisible until it approaches within 120 meters. Quickdeaths are constantly on the move, seeking to appease their hearty appetites. They are found in all areas of Volturnus except the mountains, frequently travelling in mated pairs.
The female lays hundreds of eggs each year, burying them in deep in the sand or soil. These caches sometimes contain as many as 50 eggs. The first of the young to hatch eats the remaining eggs for his or her first meal, and immediately begins its lifelong search for more food.
Quickdeaths are not native to Volturnus. The Sathar used an advanced form of DNA manipulation to create these hideous beasts from a common type of housecat found throughout the universe. On the ''Day of Death," they released thousands of quickdeaths on the surface of Volturnus to terrorize its inhabitants.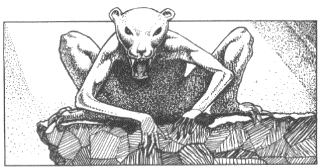 Rasties
TYPE:
NUMBER:
MOVE:
IM/RS:
STAMINA:
ATTACK:
DAMAGE:
SPECIAL ATTACK:
SPECIAL DEFENSE:
NATIVE WORLD:
Medium Carnivore
2-20; up to 100
Medium
7/65
75
75
2d 10 bite
Lock jaws and rend for 1d10 per turn
None
Volturnus - caverns

DESCRIPTION: Rasties are vicious mammals of medium size that prey upon hapless shovelmouths and other gentle prey living in the caverns of Volturnus. They average 1 meter in length, and look like a cross between a rat and a small monkey. They have four legs, but can sit upright and use their forelimbs to grasp meat or small prey. Rasties are usually hungry, and will attack anything that looks edible to them.
Rasties are usually found in packs of 20 or more. Once they smell blood, the entire pack will fight until dead. They use their sharp, ripping teeth to bite their prey initially, but once they have locked their teeth into a piece of flesh, they clamp their jaws shut and do an additional 1d10 of damage every turn (automatically) until the creature frees itself or kills the attacking rastie.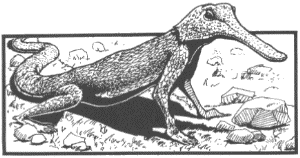 Shovelmouth
TYPE:
NUMBER:
MOVE:
IM/RS:
STAMINA:
ATTACK:
DAMAGE:
SPECIAL ATTACK:
SPECIAL DEFENSE:
NATIVE WORLD:
Medium Herbivore
2-20
Medium
3/25
60
45
1d10 bite
Stampede for 2d10 per shovelmouth
None
Volturnus - caverns
DESCRIPTION: The shovelmouth is a four-legged reptile with a long, flat snout resembling a shovel. It uses this snout to scrape moss and fungi off the walls and floors of the caverns it inhabits. Shovelmouths breed in great numbers, but their population is kept in check by rasties, which prefer them as food.
Shovelmouths are normally quite harmless, but if a herd panics, they will stampede. If a character is unfortunate enough to be caught in a stampede, he will take 2d10 damage from every shovelmouth that trampels him. You must use your discretion to determine the number of shovelmouths that may trample a character. In narrow, confined areas, the panicked shovelmouths will have a difficult time avoiding characters, while in a more open area, they will attempt to run around an object as large as a man.
A shovelmouth stampede may be diverted or stopped by a 1 meter high barricade, as long as the barricade blocks the entire corridor. A blockade that is too low or has a breach in it will not stop the stampede. The shovelmouths will destroy the barricade as they rush past or over it.
Despite their tendency to stampede at awkward times, shovelmouths are generally quite docile, and even affectionate. When a character meets a herd of shovelmouths, one of the reptiles will follow the character for several miles. If confronted, the creature will gaze at the character with its soulful, reptilian eyes and wag its scaly tail. It will not leave until force is used to chase it away.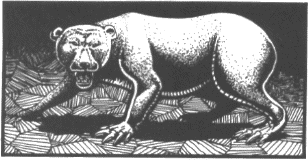 Volturnian Cave Bear
TYPE:
NUMBER:
MOVE:
IM/RS:
STAMINA:
ATTACK:
DAMAGE:
SPECIAL ATTACK:

SPECIAL DEFENSE:
NATIVE WORLD:
Large Omnivore
1 -2
Medium
5/45
200
60
4d10 claw
Hug for 2d10 per turn on roll of 10 or
less
None
Volturnus - caverns
DESCRIPTION: The Volturnian cave bear is a large (7 meters), hairless creature inhabiting the caverns of Volturnus. It attempts to eat any organic substance it finds, including the player characters.
The Volturnian cave bear normally attacks by slashing the victim with its massive foreclaws, attempting to sweep the unfortunate creature into a hug. If the bear's normal attack succeeds on a roll of 10 or less, it has caught the character in its hug. The cave bear does 2d10 points damage each turn until the victim dies or breaks the hold (at -20, due to the bear's great strength).
Other creatures, such as the timid roller or the loud-mouthed scraak, may be found on Volturnus, but are not in this module.