After filing our reports with our contact at the Pan-Galactic Corporation, C'hting, Bakchu and I drove to the Spacer's Rest to celebrate over a few mugs of thick Yazirian ale. We were discussing what we would dowith the 100 credits each of us had earned for the mission when all three of our communicators signalled incoming calls at once. Bakchu snarled in dismay when the face of Beren Tiu, our contact at PGC, appeared on the tiny screens. "Ah, I'm glad I've got all of you together," he smiled. "Nice job on Dalmor, though it's a shame you had to shoot him in public. I calied to tell you that while we were interrogating him we got a lead on a lime job you might...''

"Hold it, Beren," I growled. "You promised us we could take a week off aher this mission and, by the stars, I'm going to take a week off!'' C'hting and Bakchu rumbled in agreement, and Tiu looked disappointed.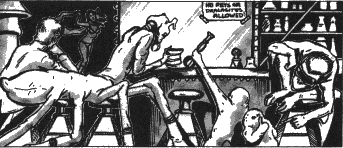 "All right," he said, "if you're not interested in 200 credits I'm not going to force you to..."

Two hundred credits! The three of us looked at each other, and Bakchu curled his lips in a knowing smile.

"What's the job?" I asked.