Science Fiction Game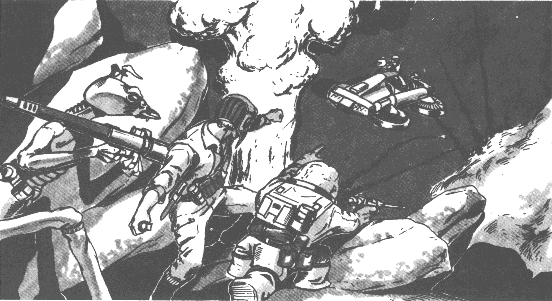 Expanded Rules
Exciting Adventure on Alien Worlds
Design: TSR Staff
Editing: Steve Winter
Cover Art: Larry Elmore
©1982 TSR Hobbies, Inc.
All Rights Reserved.
Distributed to the book trade in the United States by Random House, Inc., and in Canada by Random House of Canada, Ltd. Distributed to the toy and hobby trade by regional distributers. Distributed in the United Kingdom by TSR Hobbies (UK),Ltd.
This book is protected under the copyright laws of the United States of America. Any reproduction or other unauthorized use of the material or artwork contained herein is prohibited without the express written consent of TSR Hobbies Inc.
STAR FRONTIERS is a trademark owned by TSR Hobbies, Inc.
Fist Printing: July 1982
Printed in the United States of America
Questions about the STAR FRONTIERS game rules should be sent to: STAR FRONTIERS Questions, TSR Hobbies. Inc., POB 756, Lake Geneva, Wl 53147. Letters must include a stamped, self-addressed return envelope.
Reprinted in HTML format without permission from TSR Hobbies, Inc.