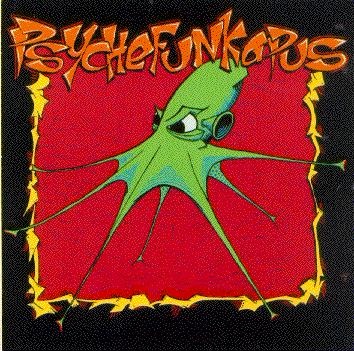 ---
Psychefunkapus
Released in 1990. Atlantic Records 82063 (out of print)
---
Tracks
1. We Are The Young (6:33)
2. Movin' (4:22)
3. Jesus Crispies (2:27)
4. Fixx (3:39)
5. Freedom (3:23)
6. Regeneration (3:23)
7. A.M. (4:42)
8. Slut Child (2:47)
9. 17 and Under (3:53)
10. Young Love is a Bitch (4:31)
---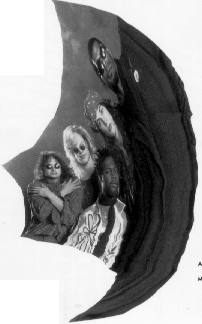 ---
The Band
Gene Genie--Vocals
Manny "Man" Martinez--Vocals, Percussion
Jonny Axtell--Guitars, Keyboards, Background Vocals
Atom Benjamin Ellis--Bass, Background Vocals
Mushi Moo Mu--Drums, Background Vocals
Additional musicians
Ray Martinez--Percussion
Gere Fenellie--Piano
Darby Gould--Additional vocal on "Movin'"
---
Credits
Produced, Engineered, and Mixed by Marc DeSisto
Assistant Engineer Anne Maria Scott
Recorded at Alpha Omega Studios, San Fransisco, October 1989
Mixed at Soundcastle Studios, Los Angeles
Front cover artwork Chris Shaw
Back Photo Tom Boss
---
For a partial lyric sheet for this album, click here!
Review
---
By the wayThese are 100% my comments. You have a right to disagree with them. Infact, if you wanna talka bout it, write me a note if you'd like and we can discuss these songs that way. Here you can check out those who have written me. Sorry about that. Now let's get on with it, shall we???
---
Psychefunkapus as a whole. They're a funk band, and this is their first album. That can tell you a lot right there. Musically, they vary from straight funk, slower funk, ska, progressive rock, punk, glam rock, and a Hendrix cover. No real theme to this album--in fact ideas are scrambled from song to song, unlike Skin, but there's still something there worth hearing. An honest review of this album would be about a 6 out of 10. But how can I be honest about this band???
---
We are the Young It sounds like a really bad Fishbone song or something. It's the pretentious kind of thing that all funk bands do when they start out--that is, write a really long slow song talking about how they're gonna change the world. We all know now that they didn't change the world, but it would've been nice. It's almost a religious song, which seems strange considering what we get 2 songs later. The end part really gets me, though. A capella "oh"'s. It's kind of like the Chant album, but before chanting was popular. Ahead of thier time??? A little.
---
Movin' Musically, it sounds like they found this song in Prince's trash can, but they lyrics paint a picture found more on Skin than on this album...that of a terrible world, and the need for an escape.
---
Jesus Crispies A fast funk song (except the middle part, which sounds just like Fayetteville, AR's own Punkinhead) about TV Evangelists, which, in contrast to "We are the Young", directly attacks the concept of religion. One of the highly amusing songs that makes this album so enjoyable.
---
Fixx Remember pop metal??? Well that's what this song is. Well, okay, maybe not. It does have a really bad 80's glam rock solo though, and the rest sort of sounds like Rush mixed with Metallica (if that's possible). About losing your mind, I think. One of the best songs on the record, too.
---
Freedom A cover of a little know Jimi Hendrix song (it's the B-side of "Angel"). This version is faster and funkier than the original, which is good, because when I heard the original (after I heard this version) I wanted to puke.
---
Regeneration This song almost sounds like Queensryche, which was a cool band when I was in high school. It's better than that though. Basically, a war protest song. Funny, because in 1989 when this was recorded, the U.S. was not involved in anything (except maybe the invasion of Panama), but there's always room to promote peace.
---
A.M. A funny little funk number about a man, his Sally, and his money. A little bit of TV, marijuana, and an earthquake later, you've got what I feel to be the strongest song on the record.
---
Slut Child The song that attracted me to this album. It's ska (sort of) and I'm not sure if it's meant to be funny, or if we're supposed to feel sorry for the "slut child" this song portrays. I usually feel sorry for her ("We know that you're a slut child/And you're probably dying"), but I think you're also supposed to laugh. Best riff in any Psychefunkapus song, no question.
---
17 and Under At which the album just gets really really silly. One of those glam rock songs from the 80's with too many keyboards about how cool it is to screw underage girls. At one point in my life, I thought this song was amusing, now it's just kind of retarted.
---
Young Love is a Bitch It starts off a slow funk song, and goes punk-ish at the end. Not quite the same as "17 and Under", this one's about how much it sucks to screw people when you're still in high school. More amusing than the previous track, and almost has a good message, but the overall silliness of the song takes away from it.
---
Back to the Psychefunkapus Homepage