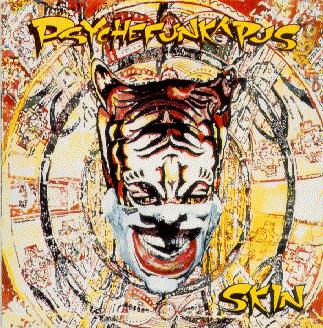 ---
Skin
Released in 1991, Atlantic Records 82331 (out of print)
Tracks
1. Evol Ving (6:08)
2. A New Beginning (4:33)
3. Surfin On Jupiter (3:11)
4. Autumn Leaves (3:10)
5. No Time (3:59)
6. Syria (0:49)
7. Television People (3:42)
8. Forgiveness (3:35)
9. Work Like A Horse/Drink Like A Fish (5:16)
10. Liars (4:57)
11. Hillbilly Happy Smash (3:29)
12. Eyeball (1:12)
13. Banana Slug King (8:43)
---
Credits
Produced by Jerry Harrison

Engineered & Mixed by Jay Mark

Recorded at Studio D, Sausalito, CA; El Dorado Studio, Hollywood, CA, and Prarie Sun Studio, Petaluma, CA

Mixed at the Plant Studios Sausalito, CA

Mastered at Sterling Sound, NYC, by Ted Jensen
Art Direction Bob Defrin

Art: Judy North
Photo Joe Geron
---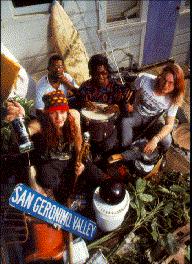 ---
The Band
Jon Axtell-Guitars/Vocals
Atom B. Ellis-Bass/Harp/Vocals
Mooshi Moo Moo-Drums
Manny Martinez-Vocals/Percussion
Additional Musicians
Bernie Worrell-B-3 and Clav
Dick Dale-"Hot Rod Surf Guitar"
Jerry Harrison-Keyboards
Marco Zonka-Tablas
Peck Alman-Trumpet
James "Snake" Harvey-Trombone
Ray Martinez-Bongos
Jay Mark-Shaker
Special Hambone Performance by Watts & Mooshi Moo Moo
Background Vocals: Jeanie Tracy, Jeanette Shartain, Sandy Griffith
---
Commentary/Review Song by Song
click on a song title for the lyrics
---
By the wayThese are 100% my comments. You have a right to disagree with them. Infact, if you wanna talka bout it, write me a note if you'd like and we can discuss these songs that way. Here you can check out those who have written me. Sorry about that. Now let's get on with it, shall we???
---
Skin as a whole This album is almost a concept album about fear of the world, the corruption of the government, and escaping everything. The musical styles vary from song to song, but for the most part, it is a heavy, mid-tempo, funk-metal fusion. This album remains one of my all time favorites.
---
Evol Ving The song's opening track has a dramatic, evil kind of a sound to it. When I first heard the song, I was told it was their "death-metal song". Well, I don't think that's quite it. It does have a semi-heavy riff throughout. Basically, it's a tale of love that now is lost--and from the point of view of the singer, will never return. A pretty long song, but the length seems to be neccessary here. Though the fake orgasm bits in the middle seem a little bit odd here.
---
A New Beginning More like funk here. A mid tempo song, with the chorus crying "Please let me out of here!". I see this as a pretty song about escaping from the evils of the world, looking for your true self, and not finding help from conventional methods.
---
Surfin on Jupiter A silly surf song with Dick Dale on lead guitar. Kind of juvinile, but the theme of escape--which seems to run through nearly every song on the album--is quite obvious here.
---
Autumn Leaves It's like ELO on downers. Lots of horns on this song. It's about trying to finding all the answers in your dreams, but forgetting them when you wake up.
---
No Time Funk like the Spin Doctors used to play. Great lyrics, like "I ain't got no image/I lost it when I lost my mind". Another song about how the world has it's problems.
---
Syria A really short instrumental funk song.
---
Television People A groovy song about how the TV is always there, even if you don't want it to be. A perfect Psychefunkapus song.
---
Forgiveness The closest thing to a pop ballad on the album. It sounds like it's written to an ex-girlfriend, but it's not one of those bitchy ex-girlfriend songs. It's almost sweet, but not quite.
---
Work Like A Horse/Drink Like A Fish When I went to Washington D.C. for Bill Clinton's innaguration, I listened to this tape a lot, and this song heightened the depressing sights of people living underneath freeway bridges. A song that sounds really silly, but in fact clearly shows in a serious manner how hypocritical the government is.
---
Liars Another anti-government song. Also an anti-war song. A slow, funky song with a rap bit near the end. Adresses war and racism, mostly.
---
Hillbilly Happy Smash The silliest song on the album, and the first song I ever heard by the band. A friend played it at a party back in 1992, and it was good to mosh to at the time. It's a square dance song, with an evil kind of twist. Silly, but then we all need to cut lose and dance once in a while, right??
---
Eyeball An instrumental song. Fine funk-metal.
---
Banana Slug King The epic of the album, at almost 9 minutes long. The first 2 1/2 minutes are a pretty little spacy sounding introduction, which abruptly changes into an agressive, mid-tempo heavy rock riff. Then the distorted vocals begin. The chorus is the funkiest part of the song--i'm sure you could pogo to it. There is also a bridge that echos the introduction. As for the words, they paint a picture of a very slimy character--but you're not really sure who it is--called the Banana Slug King. I see him as some sort of politician, telling lies, proud of his power, and crushing his enemies. But maybe that's just me. The last minute of the song is laughter. This is by far my favorite Psychefunkapus song.
---
Back to the Psychefunkapus Homepage